THANKS FOR HURTING ME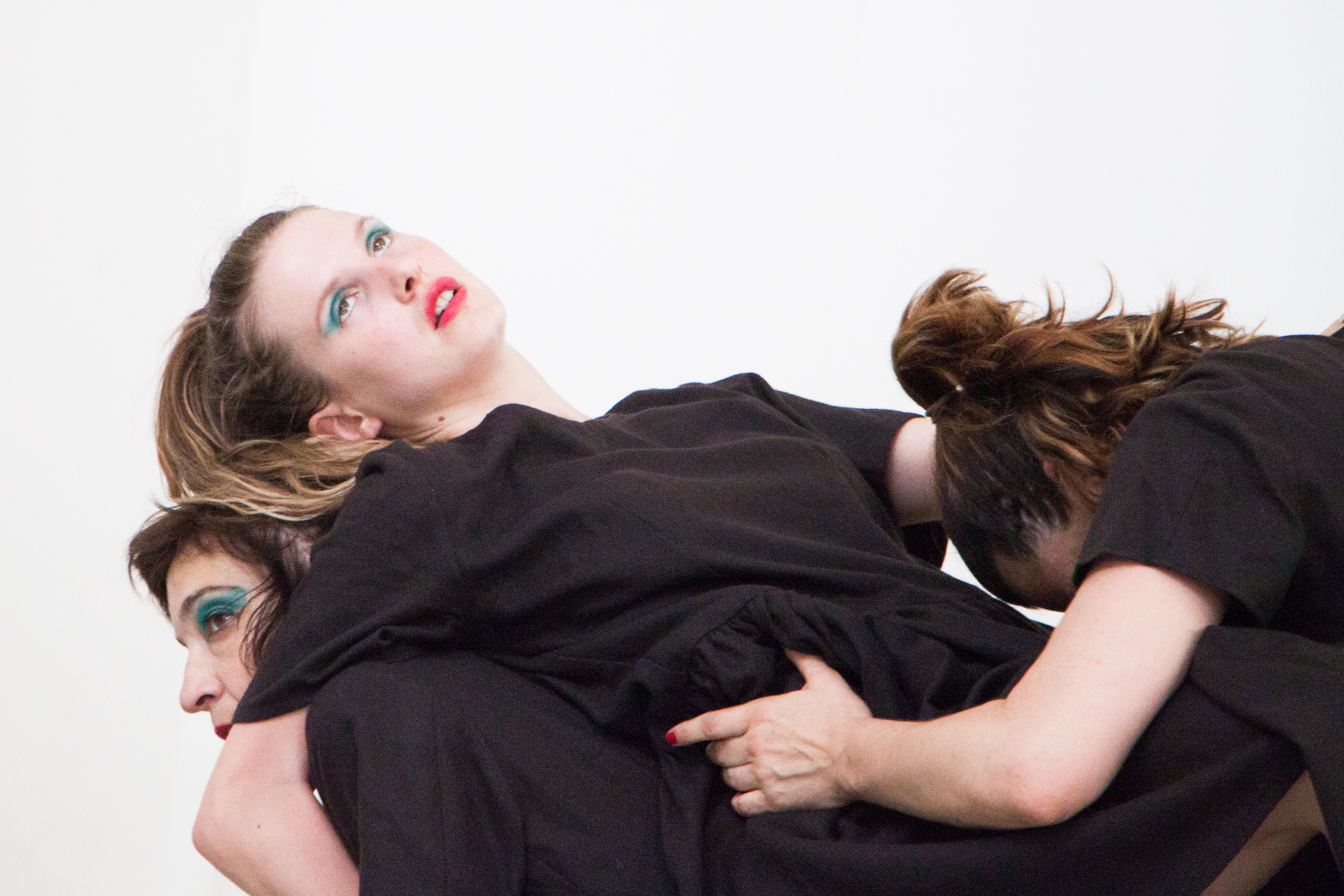 regia, coreografia, scene e costumi enzo cosimi
interpretazione e collaborazione alla coreografia paola lattanzi, elisabetta di terlizzi, alice raffaelli
video stefano galanti
disegno luci matteo crespi, enzo cosimi
musica a cura di enzo cosimi stefano galanti
testi giulia roncati
organizzazione anita bartolini
produzione compagnia enzo cosimi, MIBACT, Regione Lazio
con il sostegno per la residenza di Amat, artedanzae20/DanceHaus e di Festival Quartieri dell'Arte di Viterbo
La creazione rappresenta la terza tappa della trilogia "Sulle passioni dell'anima".
Produzione 2017
Debutto 26 settembre 2017 – Teatro India, Roma
La terza tappa del progetto Sulle passione dell'anima é dedicata all'esperienza emozionale e sensoriale del dolore, processo che permette di santificare l'uomo e allontanarlo dalla vita.
L'avvento del nichilismo ha annullato ogni valore metafisico in un sistema dominato dalla tecnologia e dalla scienza. Quindi il dolore viene estirpato dalla vita perché non abita più persone ma strumenti. Dal mutato rapporto con il Dolore sorge una nuova modalità di pensiero che celebra il mondo virtuale, la velocità e la narcosi, in una sola parola, la fuga.
Visioni e narrazioni in cui vere storie e biografie inventate si mescolano fra loro, in cui si mette in crisi l'idea di una narrazione ufficiale e oggettiva e si inseguono invece rappresentazioni più oblique e complesse.
L'idea è di orchestrare una polifonia di sensazioni in cui il senso di drammatizzazione vale molto di più del processo di descrizione, creare una drammaturgia a più livelli, multidimensionale riconducibile all'eliminazione dei confini tra le discipline artistiche, mettendo il corpo protagonista dell'intero processo artistico.
La drammaturgia del lavoro si serve come complice dell'universo Kafkiano attraverso dispositivi
necessari per imbastire una scrittura del corpo sincretica dove il dolore insegna ad ascoltare e a
trasmettere l'unicità dell'essere umano.
"Abbiamo imparato a consumare anche il dolore, senza essere in grado di prendercene cura"
RASSEGNA STAMPA
[…] È un momento di teatro altissimo.
Franco Cordelli, Corriere della Sera
[…]Enzo Cosimi costruisce una coreografia esistenzialista, complessa, coinvolgente e spasmodica per
esprimere il senso di smarrimento della nostra vita e la percezione del dolore.
Maresa Palmacci – La Repubblica
---
THANKS FOR HURTING ME
direction, choreography, scenes, costumes enzo cosimi
collaboration on choreography paola lattanzi, , elisabetta di terlizzi, alice raffaelli
performer paola lattanzi, , elisabetta di terlizzi, alice raffaelli
video stefano galanti
music curators enzo cosimi stefano galanti
lighting design matteo crespi, enzo cosimi
organization anita bartolini
text giulia roncati
production compagnia enzo cosimi, MIBACT, Regione Lazio
with support for residencies of Amat, artedanzae20/DanceHaus e di Festival Quartieri dell'Arte di Viterbo.

2017 production
Kafka. A posthumous tribute.
This third part of the project 'On the passions of the soul' is dedicated to the emotional and sensory experience of pain, a process that both sanctifies man and distances him from life. The onset of nihilism has cancelled every metaphysical value within a system now dominated by technology and science. Pain is something to be rooted out from life such that it no longer inhabits persons but instruments. A new way of thinking rises up from this altered relationship with Pain, one that celebrates the virtual, velocity and narcosis, or in a word, escape.
Within the narratives and visions, true stories and invented biographies all become mixed up, and the prospect of any official or objective narrative is driven into crisis, and are followed instead by more oblique and complex representations. The idea here is one of orchestrating a polyphony of sensations in which dramatization counts far more than description, the creation of a multidimensional dramaturgy, eliminating the lines between artistic disciplines, and making the body itself the protagonist of the entire artistic process. The dramaturgy of this work uses the Kafkaesque universe as its accomplice, employing its devices
to compose a syncretistic language of the body in which pain teaches one to hear and to transmit the uniqueness of the human being.
"We have even learned to consume pain, without being in a position to deal with it"
Enzo Cosimi